Double Drawn genuine Virgin Russian Hair® Custom Made Hand Tied Wefts - Fast Shipping.

100% genuine Russian Hair with natural colors and textures.
**All WEFTS ARE PROFESSIONALLY REINFORCED. PRACTICALLY "INDESTRUCTIBLE". NO GLUE OR FUNKY SEALANTS!
The price and the weight of the weft will adjust in the product header based on the options selected. See screenshot below: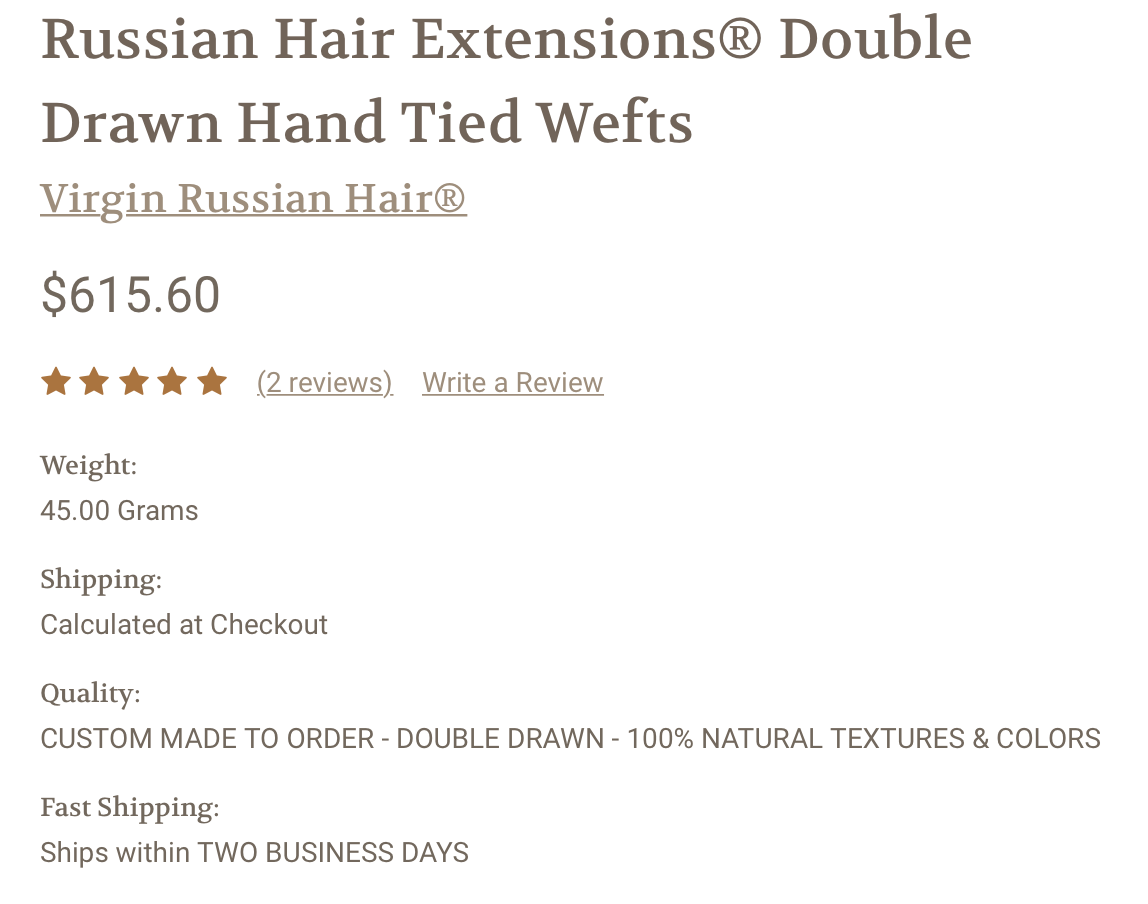 Available Quantity will be shown by "Add To Cart" button, as shown on the picture below:
** If smaller pieces are needed for the sides, please order additional

Machine Weft

that can be cut to size. Works perfect!
NATURAL COLORS ARE SUBJECT TO VARIATIONS. SINCE OUR HAIR IS IN ITS NATURAL STATE, IT CAN BE EASILY HIGHLIGHTED OR COLORED BY A PROFESSIONAL HAIRDRESSER, HOWEVER, PLEASE SEE PICTURES OF NATURAL COLORS ABOVE TO HAVE AN IDEA OF MOST COMMON VIRGIN RUSSIAN HAIR® COLOR TONES.
Hand Tied Wefts - Not to be mistaken for MACHINE WEFTS, which are made mechanically and can be cut to size. Each Weft is Hand Crafted with Double Drawn, 100% natural, cuticle intact and GUARANTEED cuticle correct alignment Virgin Russian Hair®. Our Hand Tied Wefts are crafted by our highly trained staff in-house at our own workshop, assuring you of a top quality, long lasting wefts. Hand Tied Weft: This refers to the weft of the hair. Unlike the Regular hair wefts, which is thick and heavy, our custom wefts are small, strong, durable, and hard to detect. Our Hand Tied Wefts are just right in size which allows the hair to lay flat once in place. Do not cut the width of the weft, if the weft is wider than you need, just fold it. Never sew through the top of the weft, sew in "over" and "under" the weft. DO NOT cut the thread off of the weft edges. Never brush wefts when the hair is wet. The hair is in the most fragile state naturally when it is wet. Our Hand Tied Wefts are very strong and do not shed at all. Wefts are full in Density and hold as much hair as the weft knot can hold.

If you are not familiar with fine, soft and silky Virgin Russian Hair®, please do not hesitate to order a Virgin Russian Hair® Sample. But whatever you do, please make sure you read entire "Hair Info" page on our website before you buy any products made with Human Hair.