Virgin Russian Hair® Custom Made Lace Wigs.
100% genuine Russian Hair with natural colors and textures.
***It doesn't necessarily take 15 weeks to make these hand tied hair systems. It could be delivered much faster. All depends on the amount of orders we have on hand before your order is placed.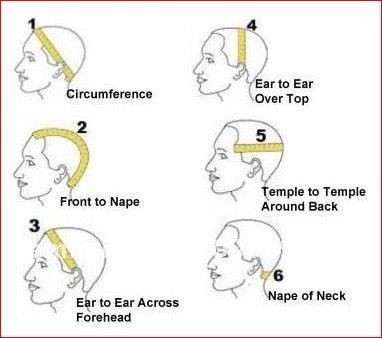 *SIZE: Please enter your measurements in the "SIZE" text field in inches or centimeters in this format: #1 - ?, #2 - ?, #3 - ?, #4 - ?, #5 - ?, #6 - ?
Custom Made Virgin Russian Hair® Lace Wigs
NATURAL COLORS ARE SUBJECT TO VARIATIONS. SINCE OUR HAIR IS IN ITS NATURAL STATE, IT CAN BE EASILY HIGHLIGHTED OR COLORED BY A PROFESSIONAL HAIRDRESSER, HOWEVER, PLEASE SEE PICTURES OF NATURAL COLORS ABOVE TO HAVE AN IDEA OF MOST COMMON VIRGIN RUSSIAN HAIR® COLOR TONES.
We are proud to offer our Exclusive Lady's Lace Hair Systems made with our Virgin Russian Hair®. Our Lace Hair Systems are fully Hand Crafted with finest 100% Virgin Russian Hair®. All Colors and Textures are absolutely natural. The materials that we use for caps are the industry's best quality materials. We use the latest ventilation technology (Silk Mono Top) to create the most durable, most natural looking and undetectable Lace Wigs made with best quality hair available on world's market. We offer our Lace Hair Systems ventilated Free Style - the hair on hairpiece can be parted anywhere. The hair on our Virgin Russian Hair® Systems is NOT cut at all; so the customer has a flexibility to have a desired haircut and style.
Our Virgin Russian Hair® hair systems are Hand Ventilated by our own staff. We use ONLY our Virgin Russian Hair® to ventilate Hair Pieces - the best hair quality money can buy.
If you are not familiar with fine, soft and silky Virgin Russian Hair®, please do not hesitate to order Virgin Russian Hair® Sample. But whatever you do, please make sure you read entire "Hair Info" page on our website before you buy any products made with Human Hair.
Unlike other, so called "European Remy Hair", Virgin Russian Hair® will last years, the rest will depend on how your Lace Hair System is taken care of.