Perhaps this introduction will sound a little harsh to you, but the truth needs to be told, because too many good people are getting ripped off these days by buying fake "Russian Hair" all over the internet and ending up with a disaster on their hands. The hair on the picture below is from Moscow, Russia. But don't have one iota of a doubt that this is NOT Russian ethnicity hair. It might look great and feels fine and soft, but ONLY before a few washes, because it's acid processed, colored and silicone covered Asian hair from former Soviet Union Republics.
Click on the picture above to see more FAKE "russian hair" pics
Russian Hair Company® - The Facts

Because of its superior quality, our Russian Hair Extensions®, Russian Hair Wefts®, Virgin Russian Hair® wigs and hair systems have increased in popularity so much that everybody wants to be a part of our Virgin Russian Hair® revolution that we have introduced to the worldwide e-commerce in 2003. But very few people actually specialize in this superior quality hair that we identify as our Virgin Russian Hair®. The reason for this is that most online hair vendors cannot get what we call real Russian hair and don't understand the difference between our selected Virgin Russian Hair® and some other hair imported from Russia. Most online sellers mistakenly imagine that if the hair is 100% human hair imported from Russian Federation, it must be what we call superior quality Virgin Russian Hair®. That's why by looking at our company, "everybody" is trying to sell hair by calling it "Russian Hair" these days, even those who have no idea what Russian hair looks and feels like. They simply misadvertise to boost sales of whatever hair they sell. That's why this industry became so confusing - there are too many of online copycats who don't know what they are doing or misleading the consumer on purpose.

When hair is sold as 100% Human Hair, be very cautious as this could mean a number of things. It is usually Asian/Indian hair, which is naturally black/very dark brown in color. When this hair is colored it takes on the consistency of straw. And as for blonde? Forget it! Never expect to get much time from this quality hair.

Also, caution should be applied when using so-called "EUROPEAN HAIR", "EURO HAIR", "EUROPEAN QUALITY" or "100% EUROPEAN REMY HAIR". Silicone Oil treatment makes this type of hair to look "silky" at first, but invariably, this is NOT "European Hair"; it is hair that has been Acid Processed to be "Tangle Free" and to look like "European Hair". It is usually Asian/Indian hair and as stated before, will not last very long. To begin with the hair looks nice; but it has been coated with silicone oil to add shine and body to the hair. However, after a few washes the silicone layer starts to wash out.
Then quickly the hair becomes duller and loses its sheen. It becomes brittle and dry. It starts to break down. Partially removed by acid reversed cuticle, originally covered by the silicone will become exposed which causes tangling and matting with your own hair . Every wash will worsen this condition. What you are then left with is acid treated Asian/Indian hair. Sellers of that type of hair will tell you all sorts of bad stories about real Russian hair, including the one that it doesn't exist anymore.

If somebody offers you "Russian Hair" in varieties of colors at great "wholesale prices" - RUN, because it's acid processed Asian hair - GUARANTEED!
Look at the picture below. This is where FAKE "Russian Hair" suppliers get their hair from!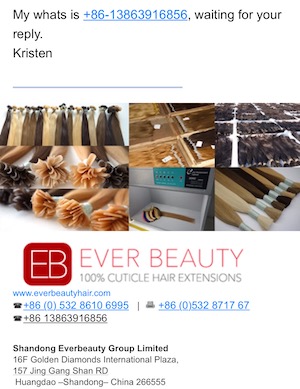 Real natural Russian hair is the ONLY true European hair on the market. "Russian" means not just imported from Russia, but the hair that we source from selected Russian ethnicity donors. This is the rarest quality hair in the world and is used by very few extensions artists and wig makers. Anybody who knows anything about hair is fully aware that this is the ultimate. Hair merchants and suppliers all over the world try to find this hair but most of them fail to succeed due to the limited availability of real natural Russian hair and its REAL cost. This hair is of the purest, silkiest most beautiful quality you can find. Yes, it is expensive, but wouldn't you rather have the best when it comes to your looks? It has been grown in the cold Siberian regions and has never been chemically treated. Once you install our Russian Hair Extensions®, Russian Hair Wefts® or wear our Virgin Russian Hair® hair system, you will never go back to anything else. "Other Hair" distributors/forum owners are trying to spread false information on internet that real natural Russian hair is a "myth" and a "result of great marketing spin and hype". But Ladies and Gents who wear our Virgin Russian Hair® extensions and hair systems are laughing at the authors of those silly comments and have an "Iron - Clad" evidence that real natural Russian hair DOES exist.

But CAUTION should be applied when shopping for "Russian Hair" online!

You can find websites with most ridiculous hair products advertised as "Russian Hair". Be careful with vendors who sell "Mercedes" and "Yugo" on the same lot, you might find "Yugo" parts in your new "Mercedes". Mixing "Mercedes" and "Yugo" parts makes an "affordable Mercedes". If a vendor sells "Remy" hair and "Russian" hair, most likely all of it is just a processed "Indian Temple" hair.

Some vendors play a "wise" trick on customers - they have several websites: one sells "Russian Hair" and another one sells "Other Hair". One company in Dublin, Ireland, that obviously sells processed "Made in China" hair, shamelessly advertises it as "Spanish Hair", and then, offers the same products as "Russian Hair" on another site sugar coated with pictures of Moscow. Needless to say what kind of "great deal" for "Russian Hair" at the "wholesale price" will arrive to your door.
Have you ever seen a warning "YOU CANNOT DYE OR BLEACH THIS HAIR"? Well, that simply means that the hair you are about to buy was Acid Processed and Fabric Dyed (usually in China). Fabric dye on human hair cannot be stripped or re-colored. If you attempt to color or bleach that type of hair, it will turn to a green gel.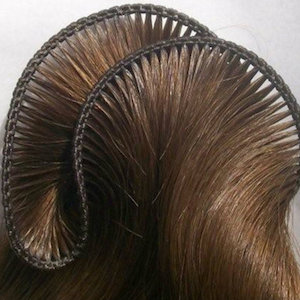 The picture on the left shows the very first Hand Tied Weft crafted by Russian Hair Company® in 2003. This picture is officially Copyrighted by our company. Yet, fake "Russian Hair" sellers around the word, without a shame, take this picture from our sites and advertise whatever they actually sell to unaware consumers. Just a few of many examples are below: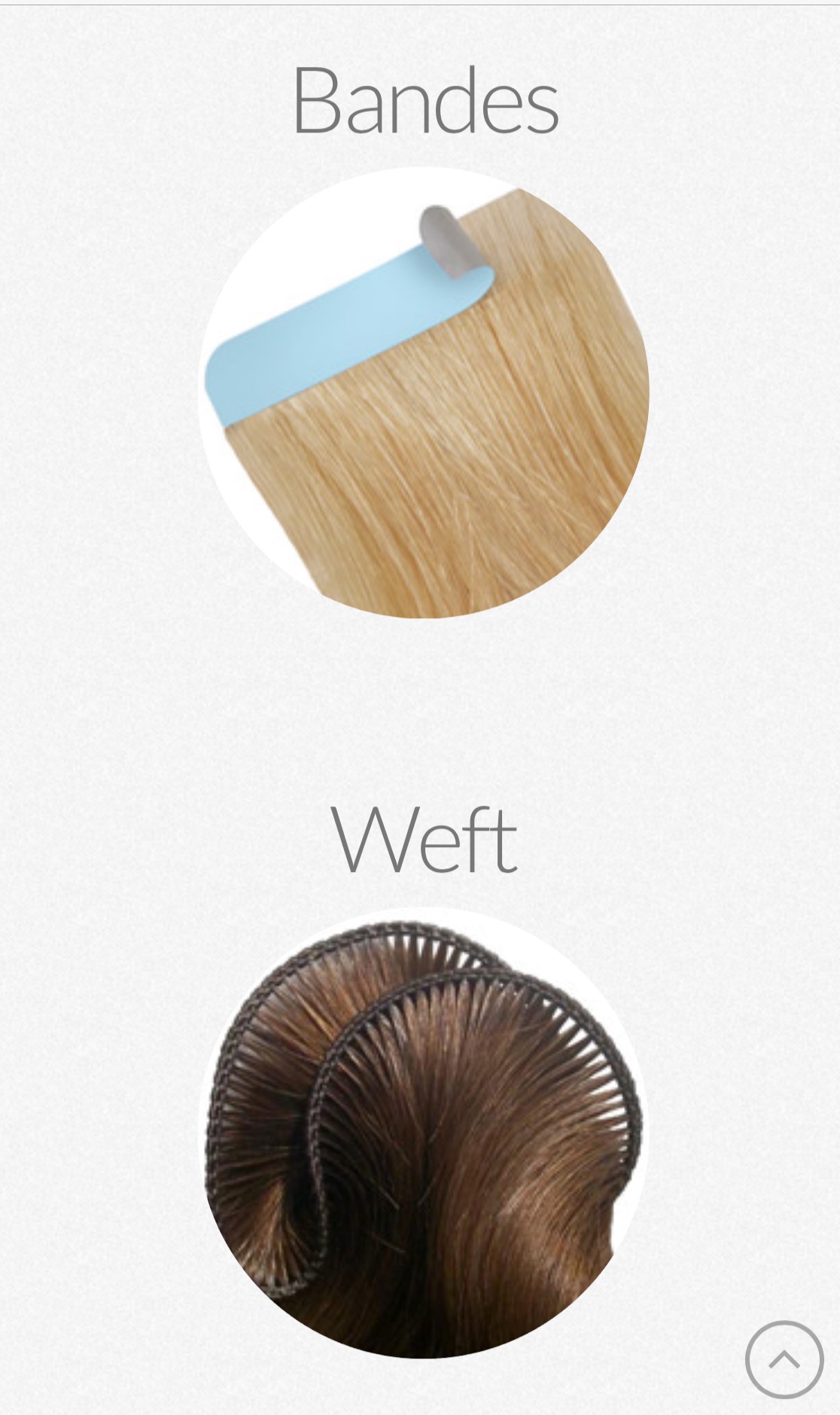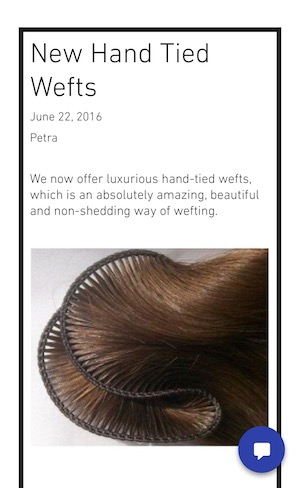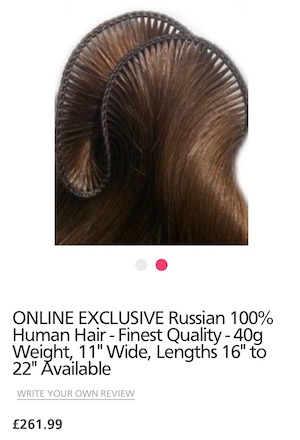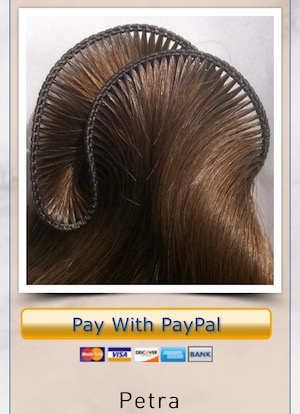 Some vendors "borrow" words and pictures of our products from our websites and claim they sell "Russian Hair from Russian Siberia" but the hair they sell is actually collected in neighboring Russia countries like Moldova, Uzbekistan, Kazakhstan, Georgia, Armenia... (former Soviet Union Republics). The hair from population of those countries is not even close to the "baby fine" texture of real Russian hair. The texture of that hair is very similar to Indian, Chinese or Mongolian hair, sometimes even coarser. But a lot of hair vendors are trying to sell that hair as "Russian Hair" using an old Western mind stereotype that entire former Soviet Union is simply "Russia" and if the hair is from Russia it must be "Russian". Russia was just one of 15 Soviet Republics and hundreds of different ethnic groups live in Russian Federation these days.
Why do those companies "borrow" our words and pictures? Because they don't have their own knowledge, experience and pictures of their own "Russian Hair" that they claim to sell.
Beware of scams from Russia, Ukraine and Uzbekistan. Some of them, like "Charm Hair", "Whiterussianhair", to name a couple, use pretty pictures on their sites and ads all over the internet to get your money via Western Union or Bank Transfer. You will never get what you have ordered and there is no way to get your money back!
Be careful when buying "Caucasian Hair". Westerner would think that "Caucasian" means "European". But some online vendors conveniently use the word "Caucasian" to sell the hair from Caucasus Mountains region ( Former Soviet Republics such as Georgia, Armenia, etc.) advertised as "Russian~Caucasian" or "Russian~European" hair. The wording confusion is obvious, but by texture that "Caucasian" hair is not "European" at all, it is more like Asian hair, much thicker and coarser than true European hair.

So, not all the hair imported from Russia is actually what we call our Virgin Russian Hair®. The real Russian hair is that expensive hair collected by us ONLY from selected Russian ethnicity population. But you have to be an expert to do that. Russian Hair Company® is the expert.

Some "vendors" are trying to capitalize on the reputation of our superior quality hair. They copycat our domain names and infringe on our registered Trademarks. Few companies managed to do that to sell their "Brazilian", "Indian" or some other Hair Extensions that they call "Russian" hair. You can find websites like that spreading from Australia to United Kingdom and across the Oceans to Hawaii. Too bad the consumer gets fooled by "companies" like that, because all of them sell acid processed and dyed Asian hair that wasn't anywhere near real Russian hair.
Our Registered Trademarks in use since 2003:
Russian Hair®
Russian Hair Extensions®
Virgin Russian Hair®
Russian Hair Wefts®
Russian Hair Company®
Slavic Hair®
Why do they copy us and how do we know about all of this? Because Russian Hair Company® is the company who introduced Russian Hair Extensions® to the West and is the first company EVER who in 2003 started to offer real, 100% natural hair from ethnic Russians to worldwide eCommerce. Before Russian Hair Company® came to the market, nobody even knew what the words Russian Hair Extensions® mean.

Remember these facts: "Cheap Wholesale" prices for the hair that matches our Virgin Russian Hair® quality do NOT exist. There is NO such a thing as "Eastern Russian Hair", "Russian Grade Hair" or "Southern Russian Hair" - either the hair is Russian or it's not.
"Black natural Russian hair" simply does not exist in the Nature! If it's naturally black it's not Russian!
All that black hair that dishonest vendors claim to be "Russian" is from Uzbekistan and Kazakhstan (former Asian Soviet Republics). Uzbek hair is actually coarser than any Indian or Asian hair. Well, Uzbekistan and Kazakhstan are Asia. That doesn't mean that Uzbek or Kazakh hair is bad. It simply means that its texture doesn't match European heads. Some dishonest dealers call it "Eastern Russian" or "Southern Russian" hair just to exploit the reputation of genuine Russian hair to manipulate internet search engines and to fool unaware consumers.

Beware of vendors who offer "Russian Hair" in numerous varieties of artificial colors. Most likely it's Indian/Asian hair or the hair from already mentioned above former Soviet Republics. That hair is acid processed for a temporary "European" silky texture and then fabric dyed to many colors, because during the texture processing, the cuticle and natural colors are stripped.

Why it's not Russian hair? Because the supply of natural, real Russian hair is extremely limited, so it is impossible to color process it in the industrial way similar to huge quantities processing of Indian/Asian hair. Not to mention that during the color processing there is a 30% loss of hair. Imagine the cost of the final product if that would be real natural Russian hair industrially color processed? Only cheap hair in huge quantities can be acid processed and colored that way. Besides, why would someone process and pre-color this very limited, precious, most expensive natural Russian hair if the only reason why it is so expensive is because the availability of this hair in its natural state is extremely limited. Vendors who sell real Russian hair would never pre-color it before the customer evaluates the hair in its natural condition. The supply of real Russian hair is not sufficient for an industrial coloring and the cost of such process with already very expensive raw hair cost would be astronomical. That is why well known hair extensions corporations with retail or "via hairdresser classes" distribution systems simply don't carry real natural Russian hair, although they are pretending to. So, if you see someone offers pre-colored "Russian Hair", you can be sure that the hair you will get is not real Russian hair.

Real natural Russian hair is so expensive and rare for a reason - it supposed to be 100% natural at the start point.

If you need a color that cannot be matched with our Virgin Russian Hair® natural colors, buy our Virgin Russian Hair® and let your hairdresser to do a color job. That way you will be sure that your Russian hair is REAL and your quiet costly investment will last for a very long time!
Please visit our SHOP with genuine, 100% natural Russian Hair - Virgin Russian Hair®.
​