Description
Russian Hair Toppers - Lace with Silk Mono Top
We are proud to offer our exclusive Lady's Lace Toppers made with the finest hair available on the market. Our Lace Toppers are fully Hand Crafted. All Colors and Textures are absolutely natural. The materials that we use for caps and bases are the industry's best quality materials. We use the latest ventilation technology to create the most natural looking and undetectable Lace Toppers with Silk Mono Top. We offer our Lace Toppers ventilated Free Style - the hair on hairpiece can be parted anywhere. The hair on our Toppers is NOT cut at all; so the customer has a flexibility to have a desired haircut and style at the salon of choice.
***It doesn't necessarily take 15 weeks to make these hand tied hair systems. It could be delivered much faster. All depends on the amount of orders we have on hand before your order is placed.
Machine Wefts can be used in addition to a Topper for length. Just sew them on under the edge of the Topper from ear to ear.
Measurement Template: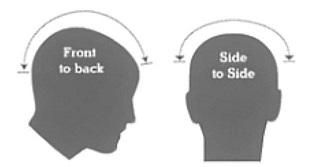 *PRECISE MEASUREMENTS: Please enter your measurements in the "PRECISE MEASUREMENTS" text field, in inches or centimeters in this format: Front To Back - ?, Side To Side - ?